A New Stumpgrinder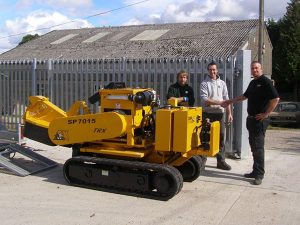 G A Butler & Sons Ltd have taken delivery of a new stump grinder from Orange Plant, the machine is a 7015 tracked machine featuring a Deutz 66hp engine this machine has been described as "the most powerful and versatile self-propelled portable grinder made; combining the convenience of a narrow 35″/ 88.9 cm machine with the high horsepower of a tow-behind unit to create an extremely productive stump cutter.
The SP7015 offers a huge 70″/ 177 cm cutting arc while extending below ground 15″/ 38.1 cm and aboveground height to an amazing 43″/ 109.2 cm. Carlton's exclusive patented turntable design keeps the weight low on the frame and the engine level during operation. This design also allows the use of a torque magnifying two-stage cutter wheel drive system.
Director Luke Butler said "We have chosen the Carlton 7015 after a long process of trialing other machines. What has impressed us is the robust nature of the machine and its ability to blitz stumps safely and efficiently". He also comments on the width of the machine saying that we should be able to access 99% of all stumps. Luke says that "the lads are all keen to get the machine out and working and comments that the machine is particularly suited to large scale site clearance jobs.
Stephen Butler Health and Safety Manager says that the machine, being remote controlled puts the operator away from the noise, dust and fumes associated with other standard machines. Stephen adds that "our commitment to health and safety is demonstrated in our machinery purchasing.
G A Butler & Sons Ltd carry out tree stump grinding and tree stump removal locally in Newbury, Thatcham, Hungerford, Andover, Basingstoke, Winchester, Wantage, Oxford and Cheltenham.  We also cover all of the south of England. If you are looking to remove a single stump in a back garden or have multiple stumps then we the machinery to complete the task.