Stump Grinding
Stump Grinding and Removal
At G A Butlers & Sons, we have a range of machines that aid in stump grinding and removal as they grind out the stumps. The largest machine is fully remote controlled and capable of large scale site clearance work, whereas the smallest grinder will fit through a standard 3ft door and is still capable of removing considerable stumps. Stump removal is a very important aspect of garden and landscape upkeep. Dead stumps can attract insects, can cause unwanted tree growth and can potentially be a hazard.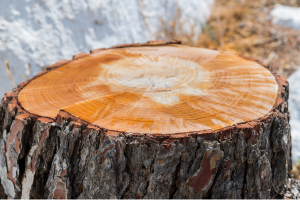 Cost:
We charge for stump grinding based on the diameter of the stump. Our standard minimum rate of £199 + VAT is charged for a stump with a diameter of less than 38″(965mm), and a there is surcharge of £2.10 is per additional inch. We need a minimum of 3′(900mm) access to get our machines to the stumps, we grind 6-8″(150-200mm) below ground level.
Quoted prices do not include the removal of grindings, which are raked back over the stump in a neat pile.
We offer a multitude of other tree and landscaping services,
Find out more about our other services here!