Tree Care
G A Butler & Sons Ltd are skilled arboricultural contractors who specialise in the care of trees. Our equipment and skills enable us to offer comprehensive tree care solutions. Including tree trimming, surveys and health consultations, to the physical removal of dead wood and dangerous trees.
Some of the tree care services we offer are as follows:
Tree Surveys 
Tree surveys are carried out to establish the overall condition of a tree, which enables us to identify any potential hazards and put in place future management programs. On completion of a survey we work with the client and make sure a management programs are followed. Trees near highways and in public places are a high priority.
Dead Wooding
This is the removal of weakly, attached dead wood. Although major dead wood has to be removed to prevent it becoming a hazard to the public, under some circumstances, a proportion of smaller dead wood can be left as wildlife habitat.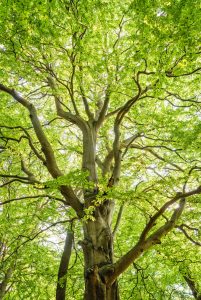 Crown Thinning 
This is the removal of a proportion of live branch growth throughout the crown to produce an even density of foliage. In turn, this allows more light and air through the tree while  and reduces it's sail area, a structurally weak tree is significantly stronger after crown thinning. During this process crossing, weak, duplicated, dead and damaged branches are removed.
Crown Lifting 
Crown lifting is the removal of lower branches to clear paths and roads. This should be done when the tree is young as part of its formative pruning (the removal of large limbs at the trunk is not usually recommended.)
Crown Reduction
This is a complete reduction of the size of the crown. This is achieved by cutting branches back to appropriate growth points, which aims to achieve an aesthetically pleasing, flowing branch line.
Find information about our other services here!